Fishing Green Bay and Door County, Wisconsin
Green Bay, Sturgeon Bay and the Door County area have a long reputation for fishing diversity and producing trophies of quality and in quantity.  But now, more than ever, walleye fishing on Green Bay is recognized as an honest-to-goodness World Class fishery.  Seven, eight, nine and even ten pound 'eyes are landed everyday during peak season.  Annually, the Bay produces a few fish as big as 15 pounds.
SPECIAL OFFER: For the month of May, the 41-foot Viking Unreel Action will be based in  Green Bay and specially rigged to offer the ultimate in comfortable, successful walleye fishing on Green Bay. Reel Action Charters is the only service to offer "Lake Erie-style" service on the Bay. You will fish in heated, fully-equipped comfort aboard this big water boat with modern bathroom facilities. When giant walleye fishing is at it's best on Green Bay, the weather can be lousy, but aboard the Unreel Action, you'll barely notice. Call Captain Scott Gutschow NOW at 920-360-2136 to book your May walleye run. Dates will book up fast!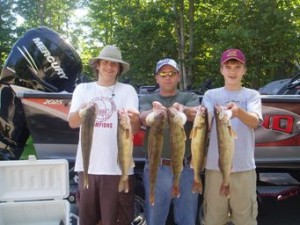 Limits of big fish are common.  Best of all, unlike many places where you catch lots of big fish, the walleyes you catch in Green Bay are absolutely delicious and safe to eat.  That makes Green Bay one of the best places you can take your family and friends for catching eyes.
As good as the fishing is, you'll get the most enjoyment and success fishing with an experienced guide.  When it comes to experience, equipment and tackle,  nobody beats Reel Action Charters. Walleye fishing is best during spring and fall. Spring is big fish time, with good odds of catching a trophy. For numbers, fall reigns supreme. You'll still likely average 4 to 5 pounds per walleye, and could hook a 10 on any trip.
Reel Action is set up to fish by whatever tactics are producing the hottest bite.  Sometimes, we'll fish two or three different methods in a single trip.  That's another big advantage we offer with the right tackle ready to go at all times.
For traditional guided Green Bay fishing, Reel Action is proud to offer service aboard our 21-foot Lund Pro V Series tournament boat. As part of the Lund and Mercury Pro Staff, Reel Action provides the services of a brand new Bay rig every season! Full professional rigging includes is the latest fish-catching technology and equipment to help you catch monster walleyes, smallies, and even musky on the Bay. We're rigged with two Lowrance HDS Color Graph/GPS units, air-ride pedestal seats, Motorguide/Panther Lift and Steer, and a 300 horsepower Mercury Verado, plus a Merc 9.9 4-stroke kicker. ABU Garcia and Fenwick tackle is proudly provided for every Green Bay fishing run.
Smallmouth Bass Fishing
Green Bay & Sturgeon Bay Recognized as Number One Bass Fishery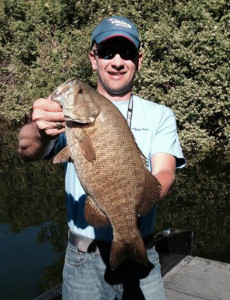 If there's one fish Door County anglers have come to rely on over the years it's the smallie.
These bass might be the toughest freshwater fish pound-for-pound and they're extremely plentiful in Green Bay.
Action starts in May when the bronzebacks move shallow to spawn, and the fishing doesn't slow down until ice-up. You'll  run into some 6 or 7 pounders here, and you will find hoards of 2s and 3s, along with a good number of 4s. This is non-stop fun!
Green Bay is recognized as one of the finest smallmouth fisheries in North America. And that isn't just guide talk! BassMaster could take its prestigious tournaments anywhere, but they choose to frequently bring them to Green Bay, Wisconsin because they can count on big catches of huge smallmouth bass.  In fact, the BassMaster 1 Million Dollar Toyota BassMaster Angler of the Year Championship will be held in Green Bay and based out of Sturgeon Bay in September of 2015.  
"It seems only appropriate that the 2015 Angler of the Year Championship will be crowned on the best bass fishery in the country," says James Hall, editor of Bassmaster Magazine. "Sturgeon Bay was ranked No. 1 on BassmasterMagazine's 100 Best Bass Lakes list this year for two reasons.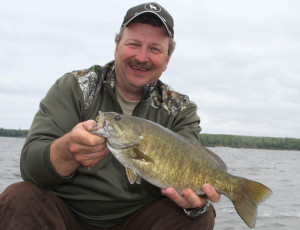 "One, the population of smallmouth in Sturgeon Bay is second to none. But perhaps more importantly, the average size of the smallies here is world class. Place the world's best bass anglers on a fishery that produces so many giant bass, and you have the potential for a history-making event."
Reel Action targets these same "historic" smallies all-season long!  You can join us and fish for these same fish before the pros do! When the 2015 top BassMaster Angler claims the $1 million prize, you can cock your head back and say, "Yeah.  I caught that fish before he did!"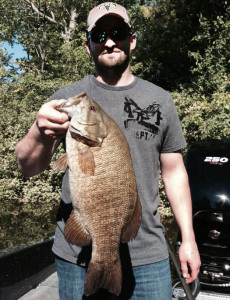 Join Reel Action on Green Bay for walleye or smallmouth bass fishing.  You'll experience walleye fishing on Green Bay like you never dreamed it could be! Dall Capt. Scott Gutschow at 920-360-2136 and book a trip to find out for yourself. We promise, you'll never regret fishing with the best!
What are you waiting for? Book a trip today!
Ask about our corporate outings and catered outings for groups of 30 or 40 people.