Reel Action Charter Rates – The Greatest Value on the Great Lakes
The finest fleet of fishing boats – the most value for your money – the biggest boats in Sturgeon Bay – and the most experienced captains and crews chartering from the ports of Sturgeon Bay in Door County, Wisconsin and Green Bay, Wisconsin.
Built on decades of service, dedication to maintaining the most modern fishing fleet on Lake Michigan, and the satisfaction of thousands anglers, Reel Action Charters considers itself the best charter fishing service on Lake Michigan and Green Bay. We provide the boats, captains and crews, top-shelf tackle, consistent success, and real testimonials to support this claim.
Despite what other services may try to sell you, charter fishing is not an exception to the rule "you get what you pay for." The best costs more … but in the case of Reel Action Charters … not much more. Review our packages, and you'll see our rates are not only competitive, but actually economical when you consider the value in fishing on the biggest, most finely tuned boats! Bottom line, Reel Action offers the best charter fishing value for your hard-earned money to be found on the Great Lakes.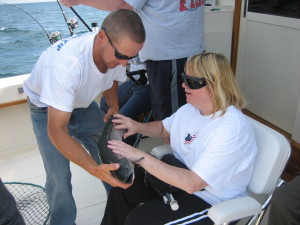 All Reel Action Lake Michigan Fishing pricing is based on a five hour charter for a full boat of six anglers. Fishing on Green Bay is now aboard the 48-foot Viking – the most luxurious you'll find on the Bay. Traditional Bay fishing aboard the 21-foot Lund is for 1-3 anglers.
Lake Michigan Fishing Services from Sturgeon Bay, Wisconsin
Green Bay Fishing is from Green Bay, Wisconsin
Premium Salmon and Trout Package Aboard the 40-foot Luhs Tournament – Time Flies.

Underwent a total interior refit in the 2019 off-season. New air, heat, air, and electronics, plus all-new Shimano tackle to launch the 2019 season.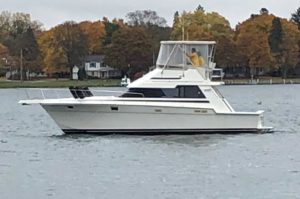 Enjoy luxury-level service aboard Captain Scott Gutschow's pride and joy of the Reel Action fleet. The Time Flies is more than twice as large as the average charter boat on Lake Michigan and powered to get you and your guests safely and comfortably to the hottest fishing on the Sturgeon Bay Bank … or beyond if necessary. Veteran anglers in their 70s and 80s regularly enjoy comfortable angling for limits of salmon and trout from the spacious deck and cabin of the Time Flies. The ride is safe, reliable and comfortable in any fishable conditions. The fishability of the Luhs 40-foot Tournament is legendary and is a natural addition to the Reel Action fleet. You must see and experience this boat to appreciate it's quality and the work the Reel Action crew put in during the off-season.
Price: $175/angler based on a full-boat of six anglers.
Luxury Salmon and Trout Package Aboard the 48-foot Viking — Unreel Action – Overall Length: 48'7″ Beam: 16′ Draft: 4'7″ Displacement: 45,5000 lbs

Luxury service and accommodations aboard what's best described as a "fishing yacht." There's more than ample room for six anglers to enjoy spacious relaxation and socializing while catching limits of king salmon, steelhead, and more. The perfect luxury choice for entertaining business clients, enjoying a once-in-a-summer family retreat (from ages 5 to 80-plus), or a group of serious anglers who simply prefer pampering! Reel Action's Unreel Action can safely, comfortably get you out to the action and back in any fishable weather conditions.
Price: $210/angler based on a full-boat of six anglers.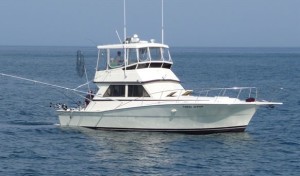 Luxury

Walleye Package

Aboard the 48-foot Viking – The

Unreel Action – One of the finest, most comfortable fishing boats to be found on the Great Lakes.
SPECIAL EXCLUSIVE PACKAGE: For the month of May, the 48-foot Unreel Action will be based in the port of Green Bay and specially rigged to offer the ultimate in luxury, comfort, and successful walleye fishing on Green Bay. Reel Action Charters is the only service to offer "Lake Erie-style" fishing service on the Bay. You and your companions will fish in heated, fully-equipped comfort aboard this big water boat with modern bathroom facilities. When the giant walleye fishing is at its best on Green Bay, the weather can be at its worst, but aboard Unreel Action, you'll barely notice. Call Captain Scott Gutschow NOW at 920-360-2136 to book your May walleye run aboard this fantastic vessel. Dates will book up fast!
Price: $160 per angler based on a full-boat of six anglers for a 5-hour charter. The hot bite is usually close to port, so this trip is pretty much launch to tie-up fishing!
Fully rebuilt and ready for action, Reel Action's Grady-White is set up for speed, mobility, economy, comfort and – most importantly – catching fish. This boat is better rigged with the latest navigational and fish-catching technology than 90 percent of the Great Lakes charter boats twice its size. Reel Action's Grady-White gets you to the fish so fast, they don't know what hit them! Then back just as fast once the limit's in the cooler! If you have a smaller group – most comfortably 3 – 4 anglers – the Grady offers a money saving option.
The cost is $675 for a five hour charter.
Traditional Walleye, Smallmouth, Muskie Packages Aboard 21-foot Lund Pro V –

For traditional Green Bay fishing for walleye and smallmouth bass, Reel Action is proud to offer fishing aboard our 21-foot Lund Pro V Series tournament boat. As part of the Lund and Mercury Pro Staff, Reel Action provides the services of a brand new Bay rig every season! Full professional rigging includes is the latest fish-catching technology and equipment to help you catch monster walleyes, smallies, and even muskie on the Bay. We're rigged with two Lowrance HDS Color Graph/GPS units, air-ride pedestal seats, Motorguide/Panther Lift and Steer, and a 300 horsepower Mercury Verado, plus a Merc 9.9 4-stroke kicker. ABU Garcia and Fenwick tackle is proudly provided for every Bay fishing charter. We'll troll, rig, jig … or whatever it takes to put you into the fish!
Price: $595 for a five hour charter for up to 3 anglers.